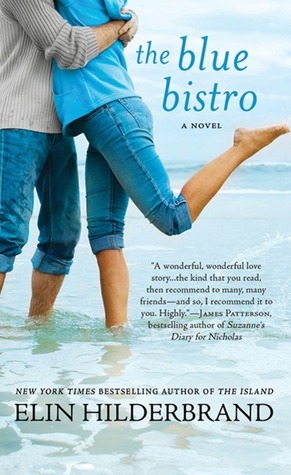 I am officially declaring Elin Hilderbrand as one of my new favorite authors. Last year, I read Beautiful Day, thoroughly enjoyed it, and decided then that I would be reading more books by this author.
The Blue Bistro was a definite page turner for me, and the perfect beach read. I loved this book.
It's a story that takes place one summer on Nantucket Island. The main character is a young woman named Adrienne Dealey. She's lived a somewhat nomadic life up until this point, moving from one resort town to the next as a hotel worker, never putting down roots.
She finds herself on Nantucket Island flat broke. Acting on a tip from someone she met on the ferry ride over to the island, Adrienne goes to The Blue Bistro in search of a job. There she meets good-looking Thatcher Smith, co-owner of the restaurant, and is offered a position as the assistant manager for the restaurant's final year.
There's a bit of mystery going on with the Blue Bistro's co-owner/chef, Fiona, who does not want to be photographed and rarely, if ever, comes out of the kitchen. The close relationship between Thatcher and Fiona is one that both intrigues and infuriates Adrienne, who finds herself more and more attracted to her new boss.
In no time, Adrienne learns the restaurant business, rubs elbows with the island's rich and famous, and enjoys the work as well as the generous income the job provides. Over the course of the summer, she falls in love, questions are answered about the mysterious Fiona, and Adrienne comes to terms with the past that she's been running from since childhood.
The Blue Bistro has everything I like in a beach read – interesting characters, a bit of glamour, a little romance, as well as humor and heartbreak, and it's a book that I highly recommend.
What is your favorite Elin Hilderbrand book?